Life has become fast paced. And we believe that it should be. A typical woman my age in Kampala, is living life nothing short of a rollercoaster. Wake up, prepare breakfast, and make sure that your husband has clothes to wear, wake up the children, prep them for school, prepare yourself as well for work and have everyone in time for breakfast at the table. Send everyone off to their designated areas, the little ones to school and the husband to work. Do all this with a smile and warmth. Go to work, face your bossy bosses or be the bossy boss to your insubordinates. Meet one or two clients, have a lunch meeting , leave at about 3pm to go pick up the kids, head home in an 90 minutes traffic jam ; make dinner, supervise homework; serve dinner, wash the dishes thereafter, put everyone to bed[ husband inclusive, they do love the attention don't they?] Time check it is 9:30pm and there' some reading to be done. And yes, finally go to bed: tomorrow morning: the cycle starts all over again.

For a middle aged woman, this is what society expects of you. And you are supposed to ensure that all these things happen without you going mad. You get the breaks from routine when the kids are off school. This is a story that most of us would relate to. For some , the fathers take on some of the responsibility, for others we are the sisters and brothers that have to look after our nieces and nephews or the sons and daughters that instead have to make sure that our fathers and mothers are well taken care of, over and above our work and other responsibilities. And this is just a fraction of the picture. We belong to other societies that also make demands of us: church, book clubs, investment clubs and fitness groups all which we have to religiously pay attention to. This is because society has defined success for us and we are so quick to defend our actions because no one wants to be viewed as a failure in life. We have no time for rest or rather rest is and for many, rest is not an option.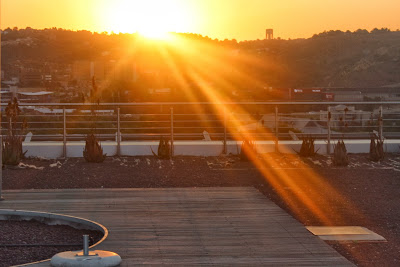 When was the last time you enjoyed the sunset? [Photo taken in Johannesburg]
When all is said and done: we are tired, worn out and burnt out. The irony though is: in all this we are supposed to ensure that we are making this world a better place. We want to make sure that our children go to the best schools, eat the best home cooked meals and we don't want to be labeled the absentee father or mother. And we are supposed to leave behind a sustainable world; the kind that will not be harsh to our grandchildren. So we have to be careful not to litter, we have to be able to sort through our trash: Organic, non-organic, recyclable etc. For some of us, we count carbon credits and rightfully so. Our universe is in a lot of trouble. And we are to blame for it.
A recent UN report shows that there is 95 percent certainty that humans have caused most of the warming of the planet's surface that has occurred since the 1950s — up from 90 percent certainty in the last assessment report, which came out in 2007.
However, we do not ever take time to rejuvenate ourselves, do we? Is that why we are burning out the universe? The report by the Intergovernmental Panel on Climate Change (IPCC) goes ahead to highlight that:
 Today carbon dioxide is at an "unprecedented" level not seen for at least the last 800,000 years.
 Sea level is set to continue to rise at a faster rate than over the past 40 years. Waters are expected to rise by between 26 cm (10 inches) at the low end and 82 cm (30 inches) at the high end.
The report is the work of a total of 209 lead authors and 50 review editors from 39 countries, and over 600 contributing authors from 32 countries. So it is to a bigger extent very believable.
Arianna Huffington, the founder and CEO of the Huffington Post is one of those who believe that as much as we want to take care of the universe, we need to take care of ourselves [the human beings] because if we do not then the earth is in trouble. Speaking at the recently concluded One Young World Summit which I was honored to attend in Johannesburg, she said; 'Each one of us will have our own individual journey. The important thing is to remember that journey, because if we forget it, then we are going to fall back on the culture's definition of success, of climbing the ladder. A designation that was created by man that you have inherited and it is not working. It is not working for men, it is not working for women, and it is not working for polar bears. And the world that man has created is based on these macho values of ruthlessness, aggressiveness, trampling on anybody to get ahead. The future needs feminine values. It is not about survival and competition, it is about collaboration. We need to learn to reach out unplug and renew ourselves."
She went on to share about how in the middle of setting up the Huffington Post she fainted from exhaustion, hurt her cheekbones and got four stitches. "That is when I re-discovered sleep. These last few years have been my best years. I have been more productive, more creative, and less reactive. And now I want to recommend to everyone that they sleep their way to the top. The cliché is that sleep is for losers, I will sleep when I die: forget that. Sleep deprivation is for losers because sleep deprived people make the wrong decisions, they miss the whispers, they miss the signs, and they miss the red flags."
Society has a lot of expectations. But we cannot keep living the same way and expect the same results. We have tired leaders, making wrong decisions and in the end, we have a universe destroyed. How about we dare to be different? Take time off, once in a while. Sleep enough, rest when you can, don't let anyone take you for granted.