I seemed to miss out on a certain stage while I was younger. I did not read a certain type of book. And so for awhile  I seemed to be uneducated about sexual practices. I did not read Mills and Boons. Funny as that may sound; my strict Christian upbringing did not allow me to. However talking to my peers these days, majority will unashamedly say that most of what they knew about sex, from when they were growing up was from reading romantic novels.
In a culture where sex talk is a taboo, growing up to be comfortable with one's sexuality is quite tough. We have grown up knowing that sex is that big lion found in the bush. If you go there, you will be eaten alive. And so the comfort we had back then was reading novels. By then, there were no mobile phones or internet cafes, so asking Professor Google was also not an option. Things have changed though.

Today, the" tele-novelas" are teaching our children what being intimate is like. Our teachers, guardians and parents are still shy about what sex is and they possibly do not know how to talk about it. They are not to blame, the system and society has
failed them.
According to the Ministry of Health Uganda, only 15 out of over 100 districts [I have lost count, there are new districts commissioned every now and then] in Uganda have youth friendly sexual reproductive health services. These services are supposed to have information on nutrition, sexual health, growth and development and post abortion amongst other topics. This is not only hard to imagine, but it is also hard to understand. Majority of the would be nurses in schools are not trained,
which is why they are usually referred to as Senior Women. Where does a 13 year old or a horny 15 year old get information about sex from? Where does a girl know what to expect when to gets her first period? How does a 12 year old boy
learn what sex is? You may ask; do they need to know? All factors constant: yes they do. Knowledge is power.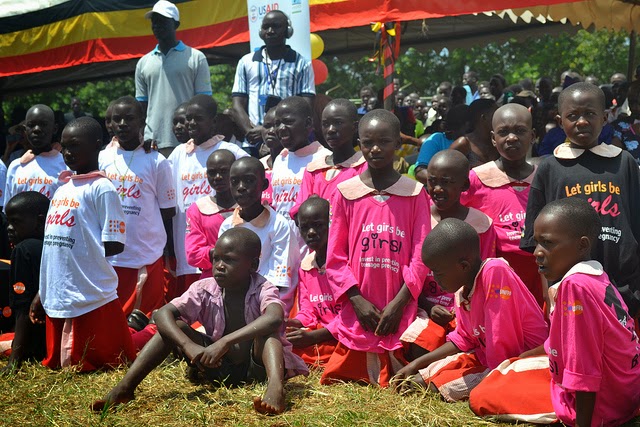 We need to take responsibility & talk to our young ones.
Photo Credits : UNFPA Uganda
Access to sexual reproductive health information in Uganda especially the rural area is not something that we
can boast of. However, there is hope. Today I met Micheal Ddembe from Red Cross. Red Cross has so far in 8 districts created a 3 point program that is helping the youth access information on sexual reproductive health. According to him, the youth centers and clinics have been set up in these districts because they had the highest teenage pregnancies, HIV/AIDS prevalence and
Gender Based Violence. The centers are Kotido, Oyam, Katakwi, Moroto, Kanungu, Mubende, Kabong and Yumbe.
"The questions that we get from these young teenagers show that they are not only curious but that they also want to learn and know more about who they are sexually. Some of the questions are; "Are there different sizes of condoms"? "How do I wear a condom?" "Will I get pregnant if I have sex while standing?"  Michael narrated.  These are questions that you
and I think are firstly awkward but also very innocent if you look on. But then how will these young ones know if they never ask? I remember in my secondary school we tasked our biology teacher to bring a condom in class and show us if it was porous.  So we had her pour water into it as we looked on: the perks of growing up, if you ask me. But not everyone has that luxury.
Michael went on to say that the 3 point program mainly focuses on the community, home and health facility. Such centers are unique because the youth and teenagers need to feel safe and listened to. The services also need to be affordable, attractive, accessible and acceptable.
8 of the so many districts in a drop in the ocean but at least something is being done. And we applaud the Red Cross Uganda for that. I realize that the things I learned growing up as a teenage are instrumental to the decisions that I make today. But we cannot let tv soap operas and romance novels teach our children the basics. We can use culture as a façade but teenage pregnancies and also HIV/AIDS do not care who you are or where you are from. Research has shown that mothers that have their children when they are teenagers do not live past 40 years of age. Parents, guardians, brothers and sisters: let us speak up!