"Man often becomes what he believes himself to be. If I keep on saying to myself that I cannot do a certain thing, it is possible that I may end by really becoming incapable of doing it. On the contrary, if I have the belief that I can do it, I shall surely acquire the capacity to do it even if I may not have it at the beginning." Mohandas Karamchand Gandhi
I am no coder. I do not now any programming language but I hear of them. The latest for me has been Ruby: a programming system. I did not know about it until I attended the
Rails Girls Kampala
meet put together by
ThoughtWorks Uganda
and
Girl Geek Kampa
la. Interesting to note though is that I was not alone. There were some girls that had never done any programming too.
Meet Patricia Opio. She was one of the participants of the first ever RailsGirls Kampala.
She studied Management by profession. That is her back ground. She spoke to me about her experience:
"This event has been eye opening. I have never been
interested in technology or media until recently when I thought, I should try out a
blog at least. A friend of mine told me about this event: so I signed up. When I got here, I was thrown into the deep end. The friend that
invited me didn't know that I knew nothing. But the team has been helpful. They
made sure that I understood everything. Now, my first project is to do my own
website." Now that is quite some resolve I must say.
About the future in coding, Patricia explains: " I don't think that I will actually code but I want to learn the
basics. Some-how they have made tech seem like a field that one can handle, but coming here have realized that it
is simple. There are some basics that do not change and if you learn those, you
are good to go."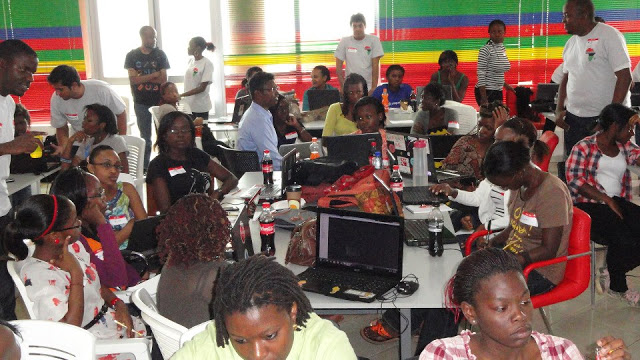 Girls busy coding at Outbox Hub last Saturday.
While there, I also talked to a one
Kellen Nakaye
. She is student at Makerere University. She is pursuing a Bachelor's in Telecom Engineering and is in 4th year which is her final year. So what a would be Telecom
Engineer be doing at a coding event, you may ask? Kellen explains: "I had gone to a friend for software to use for coding for my final year project. And because I am not into coding, I was looking for a user friendly program. That is how I got to know about this event. And I am glad I came, I found it a little easier. Actually I found that coding is not that hard.
I have found some new inspiration, so I am actually going to go home and code more because what I have found is that it is same
code, same strings that we usually write, so U don't have to fear it." Is it that easy?
So, do you sometimes doubt your ability to do something: well, don't. Do not anyone till you otherwise. It can be done.
The event put together last Saturday was hosted by
OutboxHub
and it brought together about 50 girls. Which was quite overwhelming for the organizers. Thought Works is an IT consulting company that believes in software's liberating capacity for society, attacking the most pressing problems of our time: social and economic inequality, the environment, energy, health care, participatory democracy, increasing the effectiveness of economic activity, reducing drudgery as well as ushering in the as yet undiscovered.
Girl Geek Kampala is all about empowering women an ladies that are already in technology or are looking to join it, or are very interested that it can be done. Their main objectives are to:
Inspire the next generation of girl geeks to get involved in tech by equipping them with the basic programming skills.
Inspire girls to turn their great applications into businesses
get more girls into the growing tech scene in Kampala.
Planning on doing something different this year? Well go ahead and do it! Let no one stop you.