Yesterday was the day of the African
Child. The theme of the day was 'a
child-friendly, quality, free, and compulsory education for all children in
Africa.' To help us reflect, a group of young people got together and we
went to visit a school out of Kampala. They were from the
Global Shapers Kampala Hub.
The school or education center is called
Cornerstone Education center. It is few kilometers off Mityana road; about 30 minutes'
drive from the capital Kampala. [if there is no traffic] the visit left so much
emotion on our hearts and reminded us a lot of where we came from.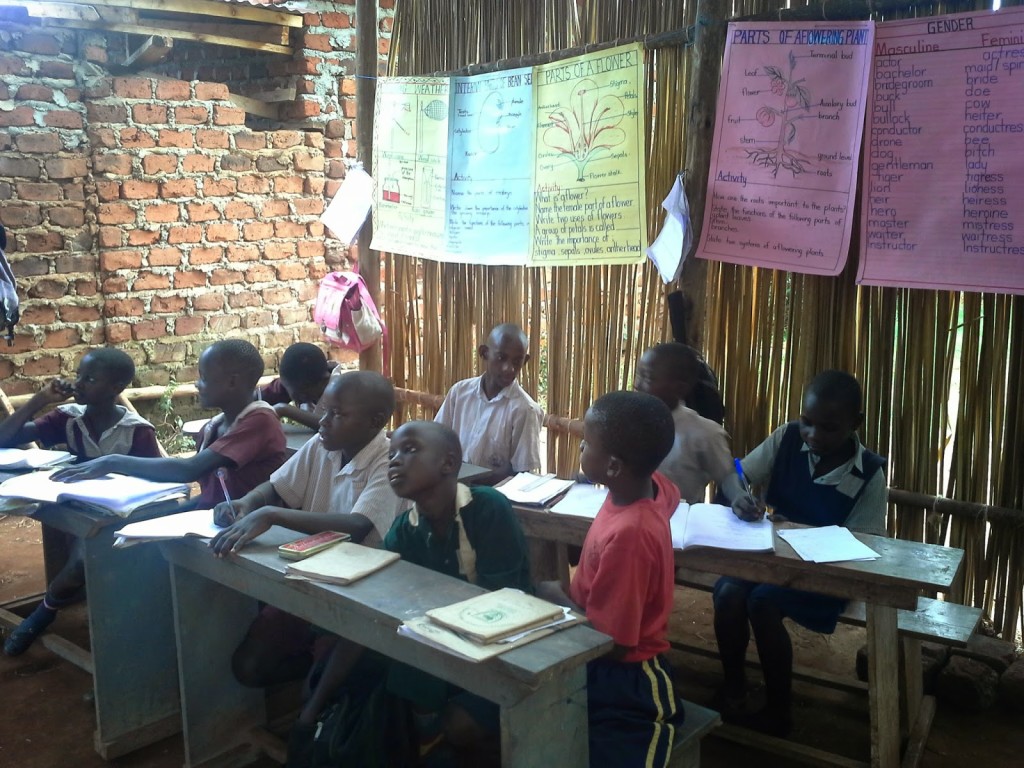 The Primary 4 pupils in their class
Peace Adia started out as a
Sunday school teacher. She loved working with children. Her passion drove her
to become a teacher and then to a head teacher of primary schools. She was not
comfortable working for others she always had a wish in her heart to start a
school of her own. Last year that dream came true. She started the year with 50
pupils. This year she has 97 of them and 7 teachers. There is one classroom
block that is permanent and the other is a make-shift structure. It has papyrus reeds on the sides to act as
walls and is roofed with iron sheets. It is visible that this little community
thrives on passion and nothing more.
When we talked to Peace Adia who
is the head teacher, she said that her school has two curriculums, I found that
quite intriguing. The Upper Primary school which is Primary 4, 5 & 6 the
subjects are the basic 4 : Maths, Science , Social Studies and English. But in
the lower primary school; they have a thematic curriculum – if the pupils are
studying science, then they will look at the mathematical aspect of it as well.
If they are studying science- they will be taught the social aspect of that.
All the subjects are integrated so we choose to teach them in such a way. The thematic curriculum was introduced in
Uganda in 2007.
The education sector in Uganda is
one that has lost its luster. In days gone, Uganda was home to so many Africans
looking for Education. It still is, however the quality is not something that
we are proud about. In 1992 when the government of Uganda had its white paper
written down, one of the main outcomes that was agreed upon was the development
of a new curriculum in the primary schools. This however was implemented in
2000 and then 2002. The main focus of this was to include vocational subjects
in the curriculum and to as well implement a new language policy. This policy
recommended that local languages be used in the lower primary classes 1-3. A
change in the primary school curriculum took 8 years to implement. If it was
implemented, I would have benefited seeing as I was in primary school around
that time.
The curriculum was once again
reviewed in 2004 and one of the key challenges noted then was that there was
very little ownership of the curriculum being taught by Ministry of Education
and Sports and that not much emphasis was put into the 'content of the
curriculum itself among others.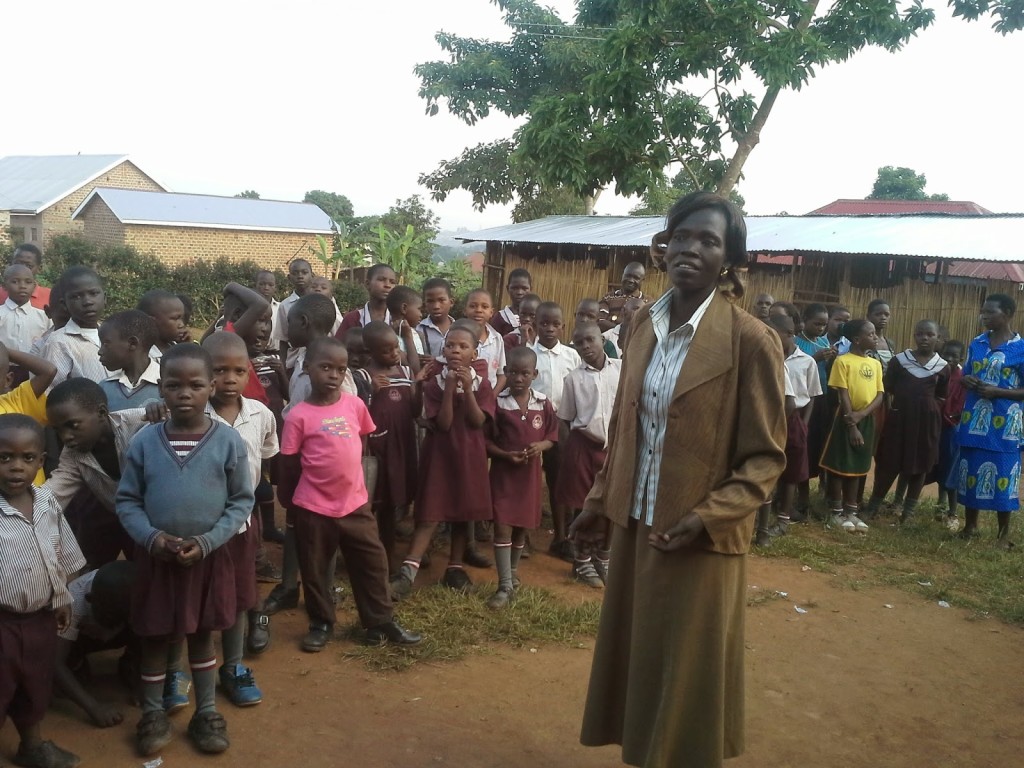 Headteacher Peace Adia with her students
A look at these children in this
school and this head teacher that owns the school and I realize that our system
is not going to save our children, but initiative and passion will. No wonder
the theme of the day was towards friendly and quality education. The will and
desire to do good by all means is what made this young lady start a school and
have parents trust her with their children's future. They could see that in her
and so they took the chance. I was very amazed at how good the spoken English for
these pupils was, that is usually a reflection of the teachers.
The head teacher and director's
vision includes growing the population of the school but not the fees. They say
they want to keep the education affordable. I was quite surprised by that,
because these days schools have become business ventures. It is more about the
increased numbers and high school fees. It is rare to find people that are
still concerned about the quality of education and helping the communities
around them.
The system has got nothing on
people like these, because they do make this world a better place against all
odds. They are who Africa needs. One day, maybe we shall be able to see this
and support or educators regardless. Education is an investment FOR THE FUTURE.