I
have just come from Maputo Mozambique, and for one it was a great
experience. I was training and facilitating young people in the
fields of Agriculture and Communications in Social Media tools ahead
of the
#RUFORUM10
conference.
The Conference was convened by RUFORUM which is The Regional
Universities Forum for Capacity Building in Agriculture (RUFORUM) It
is a consortium of 42 universities in 19 countries that are mainly
from the COMESA region and Ethiopia.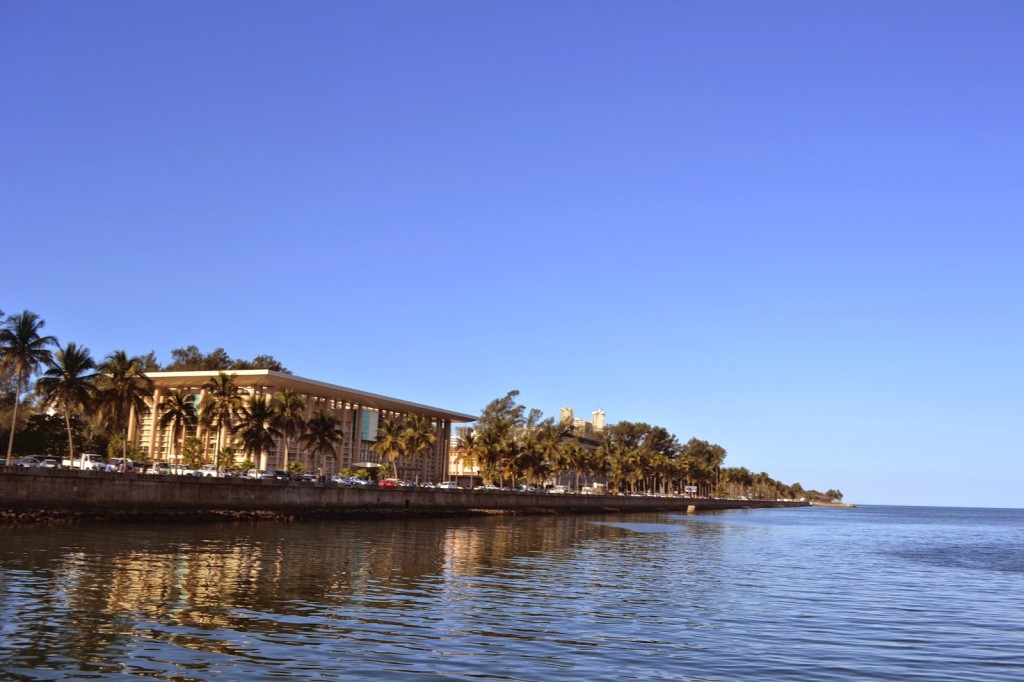 Maputo as seen from a ship dock. Maputo is also known as the Pearl of the Indian Ocean

Maputo
was my 11th African city to visit. And I have found
that with African cities can be a little bit predictable. Africa is
Africa, there are usually no surprises apart from maybe the food and
weather. The rest; traffic, garbage, dust, different English accents are usually a constant. The roasting of maize by the road side as well is not to be missed, although in Maputo I saw more of Sugarcane by the roadside.
That
said, if you are ever headed to Maputo,, be prepared for a garbage
littered city, Portuguese speaking people, lovely coffee and lots of
sea food. As we drove into the city, I couldn't help notice the palm
trees by the ocean, something that reminded me of Abidjan. The
majority of the buildings had not seen a splash of paint in awhile, I
saw that in Abidjan but I was told that was because of the war. I did
not quite understand the reason in regard to Maputo. People live in
the city center, something that Kampala does not have. There are
numerous apartments within the city center that are inhabited by
locals. I found that rather fascinating. Oh, I almost forgot ; it
gets dark at 5:00 pm this time of the year, that was very unique.
Apparently it is winter this time of the year.
Aside from that , there was much to learn about Agriculture, Education and development in Africa. These lessons that I took out will always be dear.
Where
there is a will, there is a way:
As
I sat reading through the blog posts that the trainees were coming up
with from the conference and also from listening to different
conversations, one thing is sure : there is a will for a better
Africa. Graca Machel, at the opening of the conference challenged
every one in the room when she said, " let us bring these numbers
home. Often we speak of statistics on hunger and we seem aloof from
those numbers. Next time you go home look at your wife, husband and
children , they are part of the percentages that will be hungry if we
do not do anything." That tagged at my heart and I am sure the
hearts of many. I remember overhearing a conversation between two
ladies and one was saying: You can see in this conference that people
want to take charge. Africans want to be part of the Africa Rising
story. She was about 50 years of age but you could see the spark in
her eyes. There is a will from farmers, universities, lectures,
graduate students to conduct research in Africa and try and find
solutions in Agriculture that will bring this Africa rising phenomena
to something bigger and better in the future. But again that cannot
happen on empty stomachs. But where there is a will, there is a way.
'Innovation
is the lifeline of agriculture'
We
have constantly said that agriculture is the backbone of Africa. We
grew up either digging or looking after animals. As I grew up in
Kabale, digging was the order of the day. We knew the seasons and
were always ready for when to plant and or to weed. We were always a
part of the process when it came to harvesting. Kabale is known for
sorghum , which is grown alongside legumes like beans and maize,
sweet potatoes and Irish potatoes as well. But one thing that we grew
up knowing was that farming/digging was a dirty activity and one that
was carried out by those that are not educated. You went to school so
that one day you do not wake up to go and dig. The stereotypes and
attitudes around agriculture for many were built long time ago in
their early childhood. It is hard to undo them which is why the agriculture movement has a lot on their hands. But then that also helps us to
think beyond the norm and that is why innovation is important. In one
of the sessions it was noted that the universities in agriculture
lose most of the students to other disciplines because it is
associated with hard labor and boredom. I also remember hearing a
professor from New York who said that most of what she is able to
teach is what she has practiced on her farm. Sometimes she finds the
theory to be irrelevant. This shows that the teachers/professors have
to teach something that they have practiced and believe in which is
why innovation is important. It will be easier to disseminate
information and practices because they have been tried and tested.
Pay
attention to the basic sciences at an early stage
To
be honest with you, I did not think that there was such a huge
'agriculture movement' going on in Africa. This conference had about
670 attendees who have great interest in Agriculture disciplines and
I thought wow! This is because Agriculture was never emphasized in my
high school. It was a compulsory course for high S.1 & S.2.
[first two years of high school] But by S.2, it was the class we
carried novels to, because it was boring. All that I remember was
botanical names and how hard they were to master. Those that majored
in it actually passed and loved it but they were like 5% of the
class. There was no emphasis on it. I believe that had there been
career guidance given in line with I am learning today, maybe I could
have taken up the discipline. For a girls school, very little
emphasis was put on the basic sciences. There was a lot put in for
Arts subjects: Music, Literature, Art, Home Economics etc, we
believed were so easy to do. These are school traditions that we can do nothing about. But now I see the why they matter, because the
future of the continent depends on agricultural research and how well
we are able to carry out the theories taught. The number of
scientists on the continent needs to improve, but this has got to
start from early stages in the education system. That is where
interest is cultivated.
Strategic
Partnerships are key:
We
always says Rome was not built in one day, and I would like to add
that Rome was not built by one person!Linkages, partnerships and
relationships are very vital in trying to create an atmosphere that
can accommodate growth. No one is ever going to be able to accomplish
much on their own, because at most as an individual or organization,
you can only perform one function. If we want to ever succeed, we
need to learn to lead, to follow, to delegate and to share roles.
Great team playing is sometimes what this is called. We are all doing
different things and we are great at what we do, how about once in
awhile we get together as a team? I think that is why regional
integration is still a myth because we are still holding onto our
egos and territories.
AWARD
and
RUFORUM announced partnership in capacity building for women in
agricultural research. We should all be looking to create such
synergies, after all we are working towards a greater Africa.
There
is a lot that I could write, I realize. The lessons learned and
memories will forever be a part of me. And I already miss the sun
going down at 5pm.
Obrigado
Maputo!