Happy New year.
Where I come from– it is never too late to say that. It goes on until the end of the first quarter.
I have just come back from what I believe was a very enlightening meeting with the CDU party digital team in Berlin.  CDU is the party that the German Chancellor Angella Merkel belongs to. CDU is also an acronym for  Christian Democratic Union – now that came quite as a surprise. Anja – the head of the digital  team when taking us through the offices said to us : "I know that we appear to be a secular  state but we do have a strong religious background."   I found that very comforting.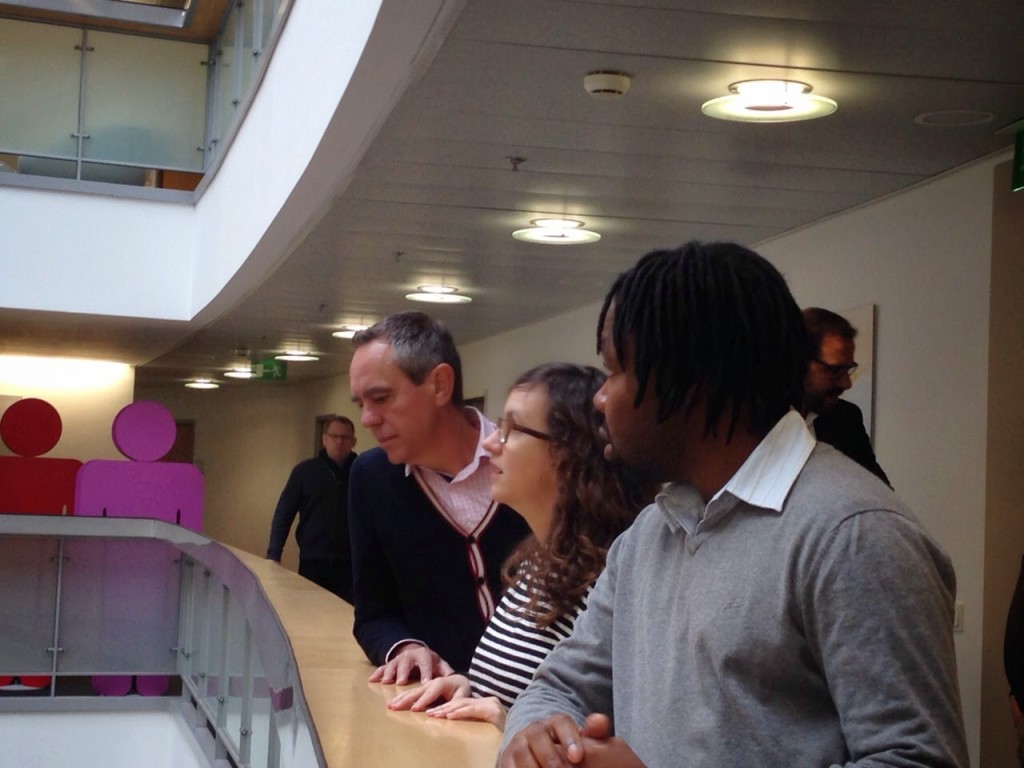 The African bloggers team at CDU offices in Berlin. Right – Jimmy Kainja &
left Dr Pierre de Vos. In the center is Anja.
Anja proceeded to take us through the digital component of the offices and how it was very vital for the last elections. Now being in the developed world, one would think that Germany would have created this component a long time ago – perhaps that it would be as old as Yahoo or Hi 5 or even Facebook. But we know  that it is not the case.And so I found that in very many ways more than one there was a similarity of the German people with that of most of the African countries.  We both come from 'conservative backgrounds.'  Social media wants us to be 'out there'. Out there giving every other detail of what is going in our careers, lives and work. But that is only if you want to- but the bottom line is that you have got to be respectful and honest – if you want to be able to have people identify with you. It is easy for people to tell what is wrong and what is right and they are able to sometimes if not most for the times see through any lies that we are telling.This is where it gets tricky for diplomats and people in politics – where are the boundaries drawn? To what extent are we able to put ourselves out there and the work that we do without compromising our positions as people of authority? Do you have to have your account run by your team or do you run it yourself? What happens then to consistency? I realize that these are pertinent questions that do need answers.We have brilliant examples on the continent about politicians that have made good use of Social Media. We also have brilliant examples of politicians that have made a mess of themselves using the same.In 2011, Jacob Zuma and his team put out a question on Twitter asking for opinions of what people thought that they needed to cover in that years State of the Nation's Address. They listened
and it was reflected in the speech made a couple of days later. Uhuru Kenyatta has done well trying to identify with 'the young and techie hip' people in his country. It is evident with is articulate and immaculately planned updates. However I also know that from following very many Kenyans on Twitter that they mostly think that it is just them puling stunts hence the title "Hashtag president"
Uganda on the other hand is 'interesting' as always. Late last year there was some chaos with the digital team that manages the president's social media updates. The feud or whatever it was ended up with people in prison over passwords and access to the accounts. And apparently the president did issue a statement about a particular person in regard to managing his account. I was shocked that he knew that Twitter and Facebook existed. It was quite messy actually.
The lesson being that our leaders or their advisors do appreciate that there is a need to engage the people that are on social media.  But the transition continues to be a tricky one because it has got to be very well thought out and very flexible as well. Politics as we know it has been referred to many as a game- however true that is – you cannot necessarily play that game online without being noticed.
So can the two go hand in hand? Very well – Yes. But there has got to be a balance on how the news is put out and how the engagement and the interaction is done.
And  I think that 2015 will continue to bring us a lot of this kind of engagement. Whether it will be aligned to political goals or not – thing is that we actually do realize that it is of importance.