25th April is the #GirlsinICT Day. The ICT sector all over
the world has changed a lot since the early days of computing. There is today what we call the 'knowledge
economy'. ICT has taken on a lot of new magnitudes. Communication technologies
have started to become the forces of social change. Social media and its
participatory platforms are as much about the technologies as they are about
their applications. We now have a space where the virtual and physical worlds are
able to closely co-exist in active and vibrant ways across several platforms.
Women are yet to tap into this. They have, but not so fully. There are so many
opportunities that come ICT that if girls said yes, they would be able to not
just stand out, but also flourish.
ICT employment opportunities for women
today include high-speed internet, cloud computing, green ICT goods and
services and "smart" applications. In some countries the applications as those promoted
by governments as a strategic response to the needs that need to be met by
society. In a country like Uganda though, the smart applications and innovations
are mainly out of interest and concern by young brains that see the need for
change in society.
A
look at the 'developed' world and the story is pretty much the same. There are
not enough women in any sector. In some European countries, a Women quota for
the public and private sector leadership has been put into place. By last year
2012, France, Spain, the Netherlands, Belgium and Italy had adapted quotas. In
Germany, there is an ongoing discussion that agreed to let things be as they
are until the end of the legislative period which ends this fall. The debate is
; Should there be a gender quota? The
opinions are as diverse as the people involved in the debate. And this just has
to do with leadership. So what would be like if it came down to women in ICT?
This means that we probably anywhere in the world at this time have not enough
women anywhere. Sad but true.
Girls in ICT is a crucial thing
to look at. If it was not, the United Nations would not have agreed to have the
day recognized in 2010. [Never mind that it coincides with World Malaria Day.]
A look at my personal story, I really wanted to be a doctor when I was younger,
but somehow priorities changed and I wanted to be a lawyer by the time I turned
13. Half way though, I realized I loved to entertain people and tell stories. And by the time I was 15, I knew I primarily wanted
to tell stories. But I started out with Science ambitions, and the society that
I grew up in allowed me to explore my options. There are lots of girls that
want to take on ICT related courses, but they never get to. There are those
that hope to but have not the resources to have their dreams fulfilled.
The US
government's first ever computer was used in the 1980s. About that time, young women
were earning 37% of computer science degrees; in 2012 that number had fallen to
below 20 %. But while teenage girls now use computers and the Internet at rates
similar to boys, they are five times less likely to consider a
technology-related career.
According to the Digital
Inclusion Report 2012, the lack of trained female professionals means that in
OECD countries, women now account for less than 20 % of ICT specialists. This
could mean that most developed countries are forecasting an alarming shortfall
in the number of skilled staff to fill upcoming ICT jobs. The European Union
calculates that in ten years' time there will be 700 000 more ICT jobs than
there are professionals to fill them; globally, that shortfall is estimated to
be closer to two million. There are great stories of girls tat have triumphed against all odds and made it. But we all need to do more.
And my question for this day
is: Can we look to having a mandatory quota for women in ICT's? Africa can skip
the uncertainty that the OECD countries have to deal with and equip the young
women to take on ICT related careers. We need to urge our governments to take
this challenge on. ICT is definitely the way to go. But our girls need to know
that it is okay to learn and study technology related disciplines. What we need
to achieve that is a little nudge and encouragement saying to them, that yes
you can and we have your back. Expanding their horizons not only with government support but also policies that favor the girl child.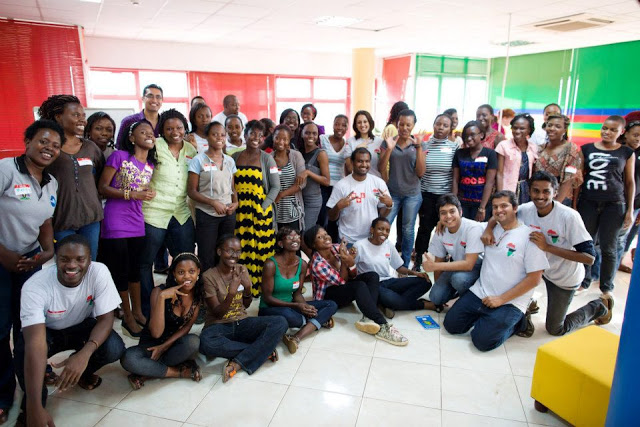 First meet of Rail Girls in Kampala held in January by Girl Geek Kampala and Thought-Works. We need more deliberate effort in policy formulation that encourages the girl child to take on technology related disciplines. Photo Credits: Outbox Incubation Centre