Rubbish strewn everywhere, the smell of waste looming in the air. It is dirty, it is filthy , it is a mess. There are bits of scrap everywhere. Used mineral bottles, pieces of metal, concrete debris: lying around everywhere. Children running around half naked, teenagers walking around 'blazed' from smoking illegal substances. Old men sitting around in groups, either smoking, playing cards or just talking. From what they are saying and how they look, it is visible that they have not had a bath in over 4 months, nor have they had anything decent to eat. Some looked like they had been drank for at least 3 days. They are staggering and slurry in their talk.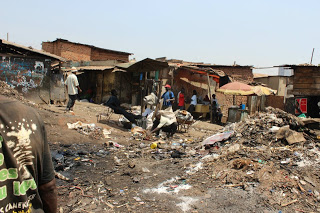 A picture of life in part of Kisenyi; As captured by Javie Ssozi
From where we are there is a group of women cooking food for sale, just right opposite is a make shift shelter about 5.4 sq ft held together with sticks and a tarpaulin as a cover. That is the collecting area for metal scrap. That for most of the boys and men is what they do for a living. They collect scrap, have it weighed and get paid money. This is a slum area. It is Kisenyi Slum right in the heart of Kampala.
When Andy mentioned to me that he would like to do a photo-shoot in the slum, I did not think that I would see this. I have driven through the famous Kibera Slum in Nairobi, read about the biggest slum in Africa, Soweto- down in South Africa. But nothing ever prepares you for the reality that you meet when you actually get there.
After mobilizing friends and well-wishers through twitter, on Saturday 28th January we set out to Kisenyi a slum area in Kampala Uganda. A total of 10 'tweeps' set out on a mission. The idea was to put a smile on peoples' faces as well as get to hear their story. It is not every day that people get to see who they really are. And once a picture of them has been taken, I believe that it goes a long in showing them that they matter. This portrait Photo-Shoot was a way of giving back to community.
However we were not only stunned by what we found, we were also changed by what we saw. As many said after the photo shoot; We take so many things for granted. We cry and wail about what we do not have; and here we are looking at things that we could do without. Ladies whine about how they have no money to get their nails done, or money to go to the movies. The guys talk about how they do not have the latest PlayStation and how the iPhone 4 is out and they have not been able to get the iPhone3. And we forget that we eat when we want to, and eat what we want. In places like Kisenyi: children go without meals; they live on 'weed' and sugarcane that they have planted near the Nakivubo Channel. That is how they get by the day. From the color of their eyes and the texture of their skin, clearly, they do not know what 3 or even 2 meals a day look like, or do they know what Water tastes like. And yet I am sure that had they been given a chance to live better, they would definitely take it.
Only 3 or 4 ladies allowed us to have their pictures taken. When we asked, we were told that the women were at work. Women in this part of the world as of any take the burden of providing for their families, with almost no help from the fathers of their children.
What struck me most, was that most of the 10 & 15 year olds that we talked to, leave their homes, villages, and countries in search of a better life. But where they end up, is the slum. Because all they have is maybe money to get them to Kampala and from there they have to learn to survive. The slum is where they end up. For most of them this is the good life they will ever get to see and know. Their lives begin and end here.
There are so many stories and lessons to tell, which my other blogger friends have and are going to share. But one thing is for sure. The reality of life being unfair sure sucks.
There was a girl that came dancing for the PhotoShoot. She is the only one that came excited to have her picture taken. Her smile is natural and she is not afraid to share it with the world. She came dancing and her face lit as her picture was being taken. It was a saturday but she came wearing her school uniform, most probably because it is one of the few pieces of clothes that she has. It was dirty, no doubt that maybe she had wore it to school every day that week. In her eyes, you could see that she wanted so much to be normal. But Life/we/the government have not given her a chance to be. Her joyful spirit never the less warmed us all up.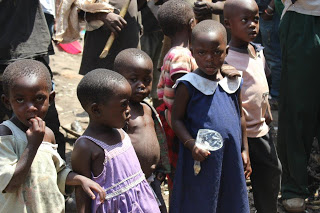 Some of Kisenyi's Beautiful faces. PHOTO by Javie Ssozi
Big ups to the individuals that responded to this initiative: Your good will and works will definitely go a long way in changing the World. #Uganda is proud of you. @enamara @4d_T @ptwino @Rosbellk @jssozi @pkahill @echwalu
Thank you @andykristian for birthing the idea and letting it live. For all that offered moral support; we forget you not; @eristaus @maureenagena @Jutt_K @tmsruge @Idahorner Thank you.
Thank you to @fourbySixImages, that is going to help us print some of these images so that all these people that had their pictures takes can each get a copy.
And for all you that are reading this and that wish us well, thank you for the support.
Together we can change the World, on bit at a time. And Remember 'Even a journey of 1000 miles begins with a Single Step'
God Bless your Souls.